Appwriter – Apple Watch Developers Melbourne
The Apple Watch has landed, beam me up Scotty – want to see your business on a new Apple Watch, contact us today Apple Watch Developers Melbourne.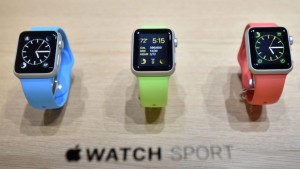 Details were limited when Apple first spoke to journalist's last year and watches only showed high level demos however today Apple provided much more to the eager Apple devotees.
Two biggest pieces of information we wanted to discover is price and the dreaded developer question – battery life.
Apple Watch Sport is from $499 to $579 and the Apple Watch is from $799 and $1629 and the flashy 18k gold Apple Watch Edition starting at $14,000.
Apple claims the watch will provide a "full day" of use on one charge, approximately 18 hours. Charging is done cleverly through magnetic pad.
Now the bad news, currently the Apple Watch does not have GPS or mobile connectivity, meaning it needs to be linked to an iPhone to be online or map your daily run, or receive and send mail – seems a big miss, but be assured updated versions will continue, future proof your business with Apple Watch Developers Melbourne will make sure you're ready now and in the future.
Unlike the Steve Jobs keep it simple there are more varieties of Apple Watch than of any Apple product offered previously;
Three product ranges and two sizes then additionally each range also has two finish options and further choices in style and coloured straps and bracelets.
Apple does understand however watches are personable so the Apple Watch is designed to provide such a user experience (remember the Swatch Watch…)
Now, what about the digital crown;
As a beginner it can be confusing and clumsy – it seems to alternate between functions and not be so consistent for user experience. As the display doesn't use the familiar pinch operation turning the crown will take some experience.
The new and exciting Apple Watch will arrive in Apple stores on April 10, the same day pre-orders begin with will Apple Watches to begin being delivered just a few weeks later on April 24, very reminiscent of the first iPad with some stuff missing but still amazing, let Appwriter, Apple Watch Developers Melbourne make you Apple Watch App ready for the wave of supported, as spock might say 'live long and prosper'….